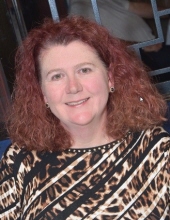 Obituary for Jamie Renee Kopp-Fields McNabb Funeral Home
Jamie Renee Kopp-Fields, age 49 of Rogers, passed away on Thursday, September 5, 2019. She was born to the late James Fields and surviving mother Elveta Fields of Pocahontas, Arkansas on April 20, 1970.

Jamie attended Pocahontas High School before furthering her education by graduating from the University of Central Arkansas with a Bachelor's of Science degree in General Science in 1995. She went on to start a successful career with Walmart for 27 years, eventually earning the final position of Senior Program Manager at the Walmart Home Office.

She met the love of her life, John Kopp, while working in Conway, Arkansas in 1993. By 1994 they were married and moved to Northwest Arkansas to start their family and live the rest of their lives together. In 2001 they gave birth to their first and only son, Johnny Kopp. Jamie's number one priority in life was always her family and friends. She enjoyed hosting parties and any friends or family of hers can attest that she was the life of any social event, big or small. Her caring, giving, and selfless spirit touched almost anyone she came in contact with and had the ability to make everyone feel special in their own unique way.

Jamie is survived by her husband, John Kopp, son, Johnny Kopp, mother Elveta Fields, three sisters; Debbie Irving, Melinda Mosty, and Brenda Thielemier, along with her countless number of loving relatives and friends.

Jamie's funeral services will be held Wednesday, September 18th, 2019 at 10 a.m. in the chapel of McNabb Funeral Home. Burial will then follow in Hite Cemetery near her father and other resting family members. Pallbearers will include: John Allen Kopp, Johnny Kopp, John Albert Kopp, Wayne Thielemier, Kyle Thielemier, and Tiffany Williams.

Her family wishes to thank everyone that was involved in making her life as enjoyable and special as it was. They hope that her fun-loving spirit will continue on through her friends and family and that her selfless legacy will not be forgotten. She will be missed.
Previous Events
Funeral Service
McNabb Funeral Home
2129 Park St.
P.O. Box 207
Pocahontas, AR 72455
Cemetery Details
Location
Hite Cemetery
1071 Hite Road
Biggers, AR AR